Spirit of Peoria100 Water St
Peoria, Illinois 61602

The Great Rivers & Routes Tourism Bureau is pleased to have teamed up with the Spirit of Peoria paddlewheel boat to offer scenic sightseeing cruises, lunch cruises, dinner engagements and full day cruises in 2022. Purchase tickets here: https://www.riversandroutes.com/things-to-do/buy-tickets/

SIGHTSEEING CRUISES:

Scenic Sightseeing Cruises: Enjoy the scenic beauty from the Mississippi River on a morning or afternoon sightseeing cruise. Cruising time: 90 minutes. Cost per person: Adult, $30.00, Child, $18.00, Group, $25.00

Lunch Cruises: Bring your appetite aboard for this scenic cruise featuring a full lunch served aboard the boat. Cruising time: 2 hours. Cost: Public, $49.50, Group, $45.00

Murder Mystery Dinner Cruise: The cast of the Alton Little Theater will give clues in this interactive Murder Mystery while you enjoy the full service buffet dinner. Cruising time: 2 hours. Cost: Public, $60.50, Group, $55.00

Prices listed are inclusive of taxes and fees.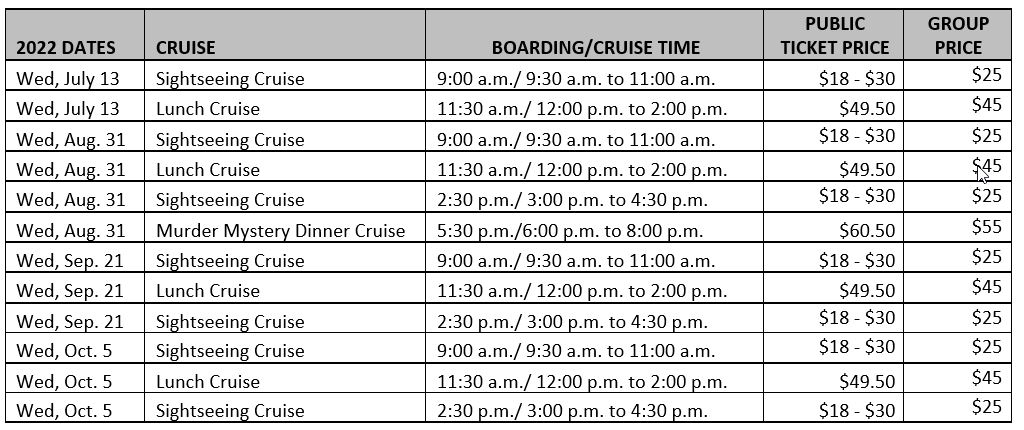 **All Cruises Depart From The Loading Dock in Grafton, IL**

Full Day Cruises:
Enjoy a full day of fun relaxing on the Mississippi River or Illinois River. Your trip includes: all-inclusive ticket pricing, all-you-can-eat meals, professional storytelling, unlimited complimentary soft drinks, historic information, wildlife sightings, indoor comforts, outdoor relaxation, live entertainment, ragtime piano, round-trip transportation, tax and gratuity. Boarding begins at 8:30am. A hot breakfast buffet is served on the Main Deck from 8:30 a.m. to 9:15 a.m. Cruises from 9:15 a.m. to 4:00 p.m. which shuttle transportation back to St. Louis.

Cost per person: $165.00, Group: $140.00